Quartz halogen heaters heat people not surrounding air making them ideal for localizing heat over a specific target
The Project
On paper, the objective of this project was simple. Design and install a heating system above a café seating area.
Heating a specific area in a large unheated building can be a tricky job and needs to be carefully designed. Throwing a suspended obstacle course with safety nets into the mix, it becomes an even trickier job!
In this case study, Phillip Lewis, Michael Raynor and their team at Eltom Electrical Contractors overcame a number of obstacles to successfully spot heat a large café seating area in a local play centre. Eltom Electrical are a Wirral based contractor that specializes in commercial installations. Here's how this one unfolded.
The Obstacles
Firstly, the play centre is enormous! It has two adjoining indoor football pitches which back directly onto the obstacle course with no separating wall. The centre also has a tall 6m ceiling with no insulation. Off the bat, this ruled out using industrial fan heaters to heat the space as the heat loss, and subsequent running costs, would have been incredibly high.
Turning our attention to a radiant heating system, mounting positions then became the biggest issue. As you can see from the photos, the play centre has an obstacle course and safety nets suspended above the seating area. This meant any heating system Phillip and his team installed would have to be carefully designed with safety in mind.  
BN Thermic quartz halogen heaters come with a wall bracket as standard but can also be suspended using our HSK suspension kit 
BN Thermic quartz halogen heaters come in several different outputs, finishes and colours
The Solution  –  Quartz Halogen Heaters
Shortwave quartz halogen heaters heat people directly and do not heat surrounding air. This makes them ideal for spot heating areas in large unheated buildings. Quartz heaters were the only feasible means of localizing heat above the seating area.
Also, as the heaters are instantly effective, there is no warm up time required which keeps running costs to a minimum.
The Installation
After much discussion, we collaborated on a design made up of 3 and 4.5kW quartz halogen heaters to be wall mounted and gripple suspended from the ceiling. The design would provide a footprint of heat over the seating area and would avoid the suspended obstacle course.
The circuits were all wired in SWA and mounted on tray on the ceiling. The suspended obstacle course made wiring a challenge but the system was installed neatly and discreetly.
Control wise, the heaters were zoned and controlled with time delay switches meaning they can't be accidently left on. By the zoning the heaters, the end user also has the ability to only heat occupied areas which keeps running costs to an absolute minimum.
An Eltom Electrical engineer hard at work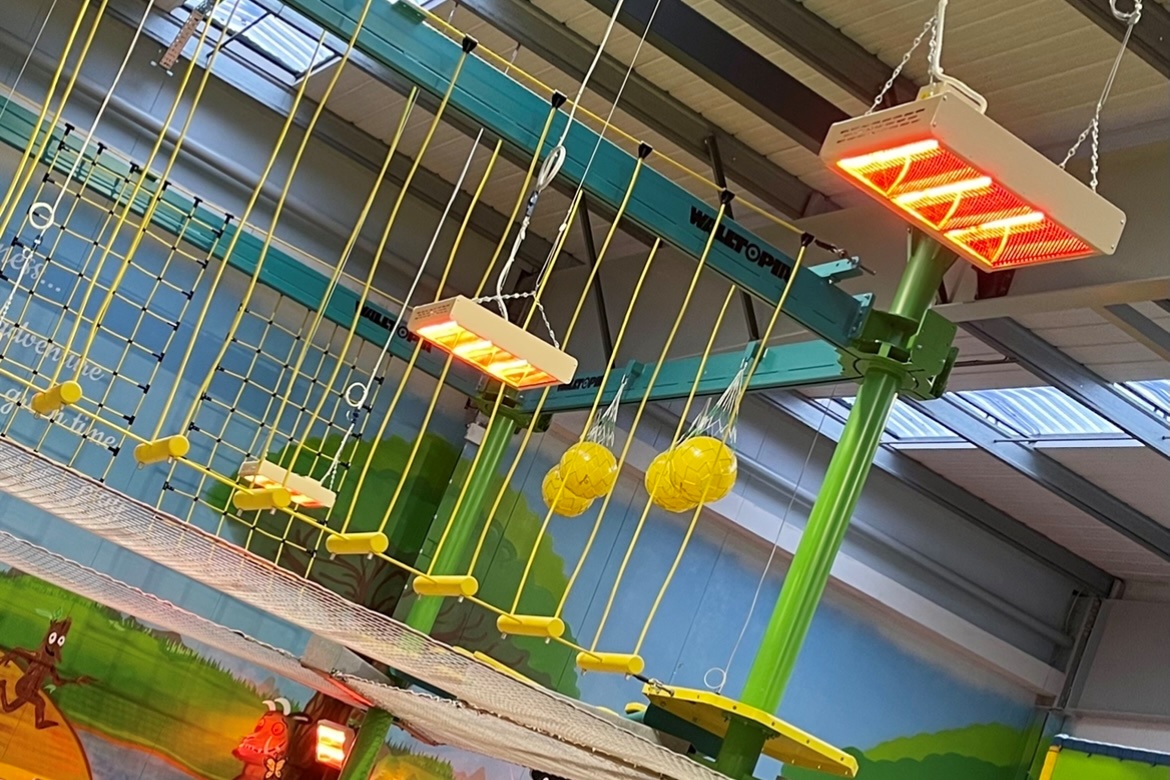 4.5kW quartz heaters providing instant comfort heat 
A Successful Project
Well done to Phillip and his team at Eltom Electrical on a successful project and big thanks for sending the images through. There were a number of obstacles to overcome in this project but the end result was superb.  
BN Thermic offer a free design service for any commercial or industrial heating project. Call us on 01293 547 361 to discuss a project.