The Project
In this case study we delve into a longwave radiant heater installation at Iden Green Congregational Church in Cranbrook, Kent.  The church had tasked Chris Beeney and his team at Juice Electrical Services to help them reduce their heating bill in their main hall. Their current system was energy-hungry and they were looking for an efficient, controllable solution.
Having successfully upgraded the outdated heating system in the adjoining nursery school back in 2019, Chris once again selected BN Thermic as a partner and went about tackling the main hall. Here's how it all unfolded.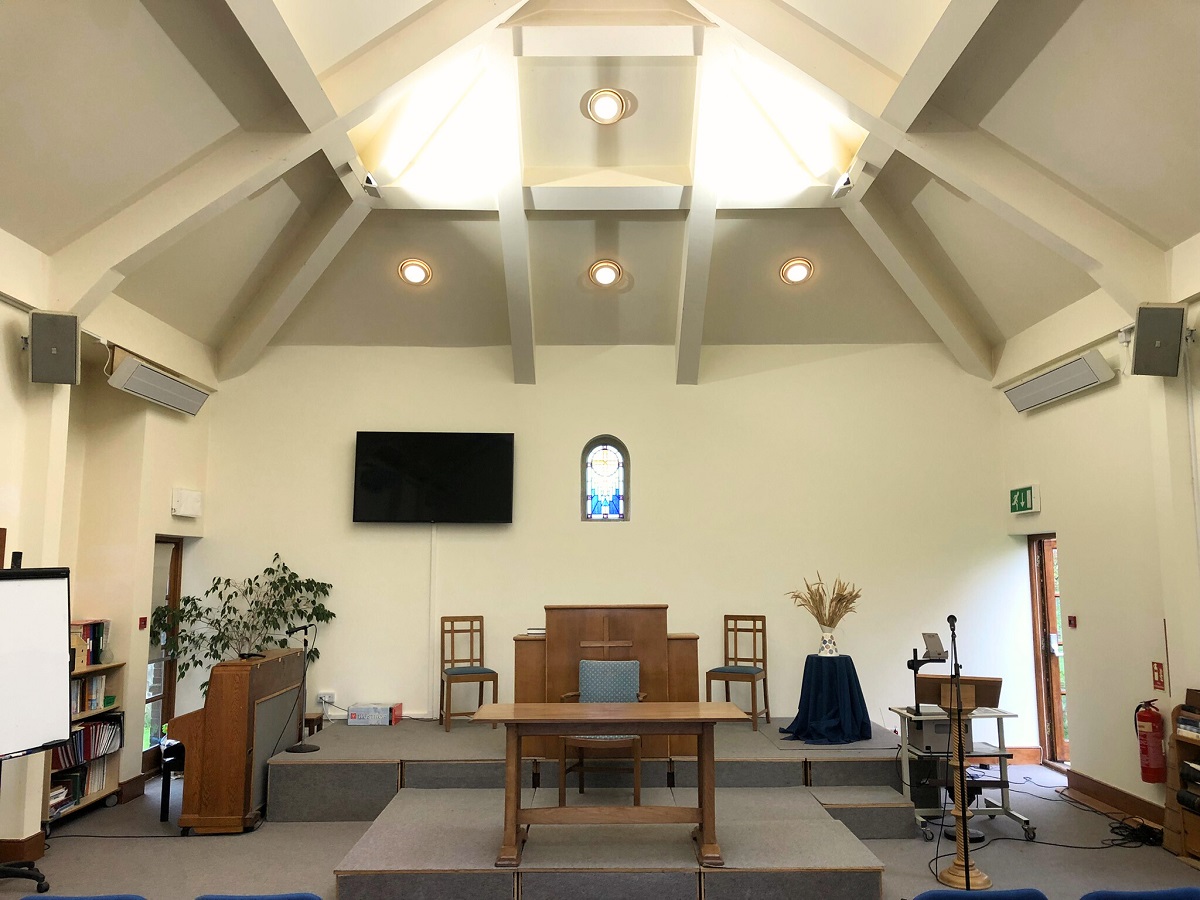 Longwave radiant cassettes provide discreet comfort heat with no noise, draught or light output 
By switching to radiant cassette heaters, the church reduced their energy consumption by over 50%
The Main Hall
The main hall was being heated by four large & unsightly storage heaters that drew almost 33kW! Storage heaters store heat over night using off peak electricity tariffs and then omit heat during the day. As hot air rises, there would have been high heat loss through the ceiling which would greatly affect efficiency and ultimately running costs.
As the hall is used for various activities throughout the year, the new heating system needed to be mounted at high level to free up wall space and be easy to control. Reducing the kW load was also essential in cutting their running costs.
The Specification
After meeting Chris on site, we put together a design using 6 x 2.4kW longwave radiant cassettes to be wall mounted equidistant as per this drawing. This system would provide discreet comfort space heating to hall and would free up wall space.
Off the bat, we had already reduced their electrical load by 56%!
BN Thermic design heating schemes for any commercial or industrial
heating application 
Cassettes are made of tough, durable steel and powder coated in an unobtrusive white finish
The Heaters
Longwave radiant cassettes provide radiant comfort heat with no noise, light or draft output. Wall mounted at 3m, they go virtually unnoticed in the hall and free up wall space. Cassettes offer two big advantages over traditional fan/convector style heaters in the form of their negligible heat gradient and their radiant effect. Both have huge energy saving upsides.
Heat Gradient When using cassettes, the ambient air temperature at high level will be virtually the same as the temperature at floor level which takes heat loss through the ceiling out the equation.
Radiant Effect Cassettes give off a beam of heat we call the radiant effect which naturally makes you feel 3–4°C warmer than the ambient air temperature. This means you can set your thermostat 3–4°C lower which will result in huge energy savings over the winter months.
Control
Chris's control system was perfect for this project. He installed a WT16 programable Wi-Fi thermostat which enabled multiple users to control the system both on site and remotely from a phone, tablet or PC of their choosing. This means personnel from the church could control the heating system without the need to be on the premises. He combined the thermostat with a black bulb sensor for accurate temperature sensing of the room.
The system also allows the users to have both an unoccupied (setback) temperature setting and an occupied (comfort) setting for when the church is in use. The comfort setting can in turn be programmed to come on and off multiple times a day.
WIFI thermostats allow multiple end users to control a heating system from a phone, tablet or PC 
Black bulb sensors allow for more accurate temperature control when using longwave radiant heaters  
Finished Project
The finished project was a huge success. The installation took 3½ Days to complete, commission and hand over with no disruption to the client's use of the premises.
A big thanks to Chris and his team for choosing BN Thermic as their commercial heating partner and for sending us photos of the completed project.
BN Thermic design heating systems for any commercial or industrial heating project. Please contact us on 01293 547 361 to discuss a project.